Selected publications
Magazines
Arkitektur 1/2013: Nursing Home i Fjardabyggd, 3. price.
Forum Aid 1/2007: Laugarnes School/Text: Massimo Santaniccia.
md moebel interior design No.1/2007: Icelandic Embassy Residence in Berlin/Text: Ulrich Büttner.
Disenart Magazine No.13/2006: Icelandic Embassy Residence in Berlin/Text: Sonia Berger.
AT- magazine of Icelandic architects No. 2/2006: Icelandic Embassy Residence in Berlin
Bauwelt No. 36/2006: Icelandic Embassy Residence in Berlin/Text: Anne Kockelkorn. .
Design from Scandinavia No. 22, 2006: Icelandic Embassy Residence in Berlin.
Forum AID 3/2006: Icelandic Embassy Residence in Berlin, text by Annina Rabe.
Arcpace.com: Kolonihaven, The International Challenge.

Books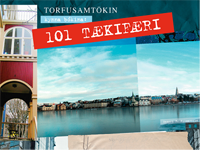 101 Tækifæri. Publisher: Torfusamtökin, Reykjavík 2010. Author: Snorri F. Hilmarsson. ISBN-10: 9979707623. ISBN-13: 9789979707622
Salons der Diplomatie DOM publishers, Berlin 2008. Authors: Kirsten Baumann, Natascha Meuser. ISBN 978-3-938666-38-8 (german edition) ISBN 978-3-938666-80-7 (english edition)
Seventy Nordic Architects Publisher: DOM publishers, Berlin 2008 Author: David Sokol. ISBN 978-3-938666-83-8
Nordic Architects. Publisher: Arvinius Förlag, Stockholm 2008 Author: David Sokol. ISBN 978-91-85213-33-7
A Guide to Icelandic Architecture, The Association of Icelandic Architects, Reykjavik 2000 .
Main editor and co-author: Dennis David Johannesson. ISBN 9979-60-528-6
Exhibition Catalogues
Museum of Design and Applied Art, Iceland 2009
Nordic Architecture as Resource , The Association of Icelandic Architects 2003.
Kolonihaven, The International Challenge , digital catalogue at www.arcspace.com.
Garðhusabaer, The International Challenge, Reykjavik Art Museum 2000.
"Hooks ", Form Island 1996.
From Dreams to Reality, Baltic/Scandinavian Design & Craft Exhibition 1993-94.
"The Architect as a Designer", The Assocation of Icelandic Architects 1992.